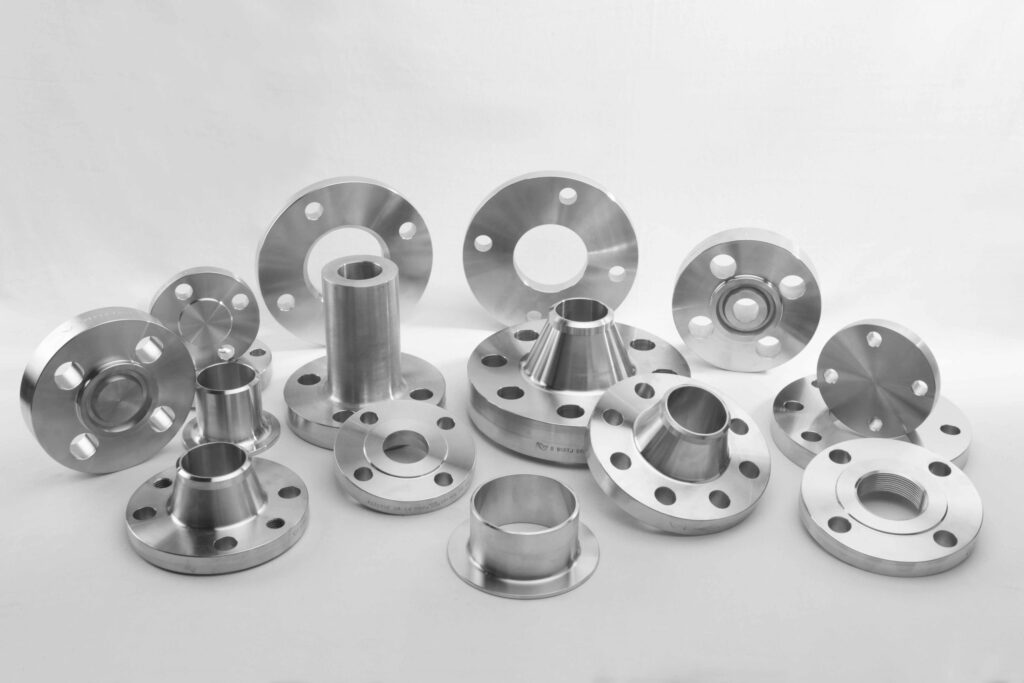 M-Pipe & Fitting Solution Inc is a reputable company that manufactures and supplies high-quality spectacle blind flanges. Spectacle blind flanges are crucial components used in piping systems to isolate or connect sections of pipelines. These flanges, featuring a unique design, offer the functionality of both a blind flange and a spacer. They find applications in various industries such as oil and gas, petrochemical, chemical, and power generation. Spectacle blind flanges, exploring their types, materials, applications, and benefits, specifically focusing on stainless steel, carbon steel, and duplex steel variants.
Spectacle Blind Flanges Overview:
Spectacle blind flanges, also known as figure-8 blinds, consist of two metal discs joined together with a central section. This central section has a hole, allowing flow through the flange when aligned with the pipeline. When rotated 180 degrees, the hole is covered, providing isolation. This unique design allows easy visual verification of the flow status and facilitates maintenance and repairs without shutting down the entire system. It come in various sizes, pressure ratings, and materials, providing flexibility for different application requirements.
Stainless Steel Spectacle Blind Flanges: Stainless steel spectacle blind flanges are widely used in industries that demand corrosion resistance, durability, and aesthetic appeal. Stainless steel grades such as 304, 316, and 316L are popular choices for these flanges. They offer excellent resistance to corrosion caused by chemicals, acids, and atmospheric conditions. Stainless steel spectacle blind flanges find applications in offshore platforms, marine environments, food processing, pharmaceuticals, etc. These flanges are known for their high strength, low maintenance requirements, and ease of fabrication, making them suitable for demanding environments.
Carbon Steel Spectacle Blind Flanges: Carbon steel spectacle blind flanges are renowned for their robustness and cost-effectiveness. They are often used in industries that require high-pressure and high-temperature applications. Carbon steel spectacle blinds are available in different grades, including ASTM A105 and A350 LF2, offering excellent strength and resistance to mechanical stress. These flanges are widely used in oil refineries, power plants, and chemical processing facilities. Carbon steel spectacle blinds are preferred for their durability, reliability, and ability to withstand harsh operating conditions.
Duplex Steel Spectacle Blind Flanges:  Duplex steel spectacle blind flanges offer a combination of strength and corrosion resistance, making them suitable for challenging environments. Duplex steel is a family of stainless steels with a mixed microstructure of austenite and ferrite phases. The duplex structure provides enhanced resistance to stress corrosion cracking, pitting, and crevice corrosion. Spectacle blind flanges from duplex steel, such as SAF 2205 and SAF 2507, are used in offshore oil and gas production, chemical processing plants, and desalination facilities. Duplex steel spectacle blinds provide excellent mechanical properties, high yield strength, and good weldability, making them a reliable choice for critical applications.
Spectacle blind flanges play a crucial role in piping systems by allowing easy isolation and connection of pipeline sections. Stainless steel, carbon steel, and duplex steel spectacle blinds offer different advantages depending on the specific application requirements. By choosing suitable materials and designs, industries can ensure their piping systems' efficient and reliable operation. Understanding the features and benefits of these flanges will help professionals make informed decisions when selecting the most suitable spectacle blind flanges for their projects. Whether it's stainless steel's corrosion resistance, carbon steel's cost-effectiveness, or duplex steel's strength and durability, each variant offers unique advantages. M-Pipe & Fitting Solution Inc provides certified flanges that meet international standards such as API, ASTM, and ISO 9001:2015.
| | |
| --- | --- |
| Spectacle Blind Flange Standards | ANSI/ASME B16.5, B16.47 Series A & B, B16.48, BS4504, BS 10, EN-1092, DIN, ANSI Flanges, ASME Flanges, BS Flanges, DIN Flanges, EN Flanges, GOST Flange, ASME/ANSI B16.5/16.36/16.47A/16.47B, MSS S44, ISO70051, JISB2220, BS1560-3.1, API7S-15, API7S-43, API605, EN1092 |
| ASME B16.5 Spectacle Blind Flange Size Chart | 1/2″ (15 NB) to 48″ (1200NB) DN10~DN5000 |
| | |
| --- | --- |
| Stainless Steel | ASTM / ASME 201, 202, 301, 304, 304L, 310, 310S, 316L, 316TI, 317, 317L, 321, 347, 409, 409M, 409L, 410, 410S, 420, 430, 431, 441, 444, 446, 17.4PH, 904L |
| Super Duplex Steel | S32750 |
| Duplex Steel | ASTM / ASME SA 790 UNS NO S 31803 , S 32205 , S 32550 , S 32750 , S 32760. |
All information in our datasheet is grounded on approximate testing and is stated formal of our knowledge & belief.  It's presented piecemeal from contractual scores and doesn't constitute any guarantee of properties or of processing or operation possibilities in individual cases. Our guarantees and arrears are stated simply in our terms of trade.
Gas Processing Industry

Pharmaceuticals Industry

Chemical Industry

Pulp and Paper Industry

Sea Water Equipment

Heat Exchangers

Condensers