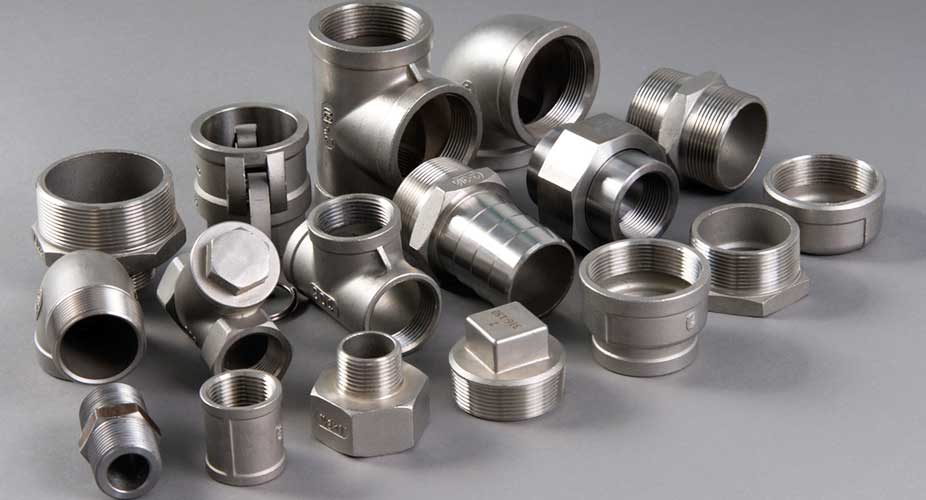 M-Pipe & Fitting Solution Inc. is a reliable business that makes and sells high-quality forged bushing fittings. Forged Bushing Fitting is a crucial part of many businesses because it makes mechanical applications more reliable and long-lasting. Forged bushings are mostly carbon steel, stainless steel, and duplex steel, all common materials.
What exactly is Forged Bushing?
Forged bushings are mechanical parts that keep moving parts from rubbing against each other. They are round and hollow in the middle to hold a shaft or pivot. The outside is usually rough or ribbed to make it easier to maintain and stop it from slipping.
Forging Method:
Bushing forge Fittings are made by forging, which includes using pressure to shape hot metal into the needed shape. This process improves the material's mechanical properties, making forged bushings stronger and more resistant to wear and fatigue than their cast peers.
Carbon Steel Forged Bushing: Carbon steel forged fitting Bushing are used a lot because they are solid and cheap. AISI 1018, 1020, or 1045 is usually used to make them. These bushings have a high tensile strength, good hardness, and good resistance to pressure and wear. Forged bushings made of carbon steel work well in situations with moderate loads and temperatures.
Stainless Steel Forged Bushing: When corrosion protection is critical, stainless steel forged bushing is the best choice. Most of the time, they are made of austenitic types of stainless steel, like 304 or 316. These bushings are very resistant to rust, oxidation, and chemical corrosion. This makes them perfect for use in marine settings or other places where they will be exposed to water or harsh substances.
Duplex Steel Forged Bushing: Duplex steel forged Bushing is often used in situations requiring high strength and corrosion resistance. Duplex stainless steels, such as SAF 2205 or UNS S31803, have a unique composition that combines ferrite and austenite phases. It gives the metal excellent mechanical properties, such as greater yield and tensile strength, better resistance to stress corrosion cracking, and better resistance to pitting and crevice corrosion.
Forged bushings have these benefits:
Strength and Durability: Forged bushings are known for their high strength, which allows them to handle heavy loads and high pressures without deforming or breaking. Compared to cast or machined joints, they also last longer.
Resistance to Wear and Fatigue: The casting process lines up the metal's grains, which makes the metal more resistant to wear and fatigue. It makes cast bushings very reliable in situations where they will be stressed over and over or loaded in cycles.
Precise Control of Dimensions: Forged bushings are made with tight standards, ensuring their sizes are accurate and consistent. This precision lets the parts fit and line up right with each other, lowering the amount of space between them and the risk of unwanted movement or vibration.
Cost-Effectiveness: Even though forged bushings may cost more than cast bushings at first, they are more durable and last longer, which makes them cheaper in the long run. When you don't have to replace or fix things as often, you save money generally.
Forged bushings can be used for:
Forged bushings are used a lot in many different fields, such as:
Forged bushings are used in suspension systems, steering linkages, and engine parts to ensure they work smoothly and reliably.
Oil and Gas: Forged bushings can be used in essential applications on offshore platforms, pipelines, and valves because they are strong, don't rust, and don't wear out.
Heavy Machinery: Forged bushings are used in building equipment, mining machinery, and agricultural machinery, where they must withstand heavy loads and harsh conditions.
Power Generation: They are used in equipment that makes power, such as turbines, generators, and pumps, to provide support and smooth rotation in high-speed and high-temperature settings.
Aerospace: Forged bushings are used in airplane engines, landing gear systems, and control mechanisms to ensure they work well and keep people safe.
Industrial Machinery: They are used in various industrial equipment, such as conveyors, presses, and machine tools, to make movement smooth and accurate.
Care and Maintenance:
To work well and last as long as possible, cast bushings need to be maintained and cared for properly. Here are a few rules:
Lubrication: Lubrication is essential to keep friction and wear to a minimum. Choose a lubricant that is right for the job and follow the instructions from the maker.
Inspection: The joints must be checked regularly for signs of wear, damage, or deformation. Replace old bushings right away to avoid more problems.
Cleanliness: Keep the area around the bushing assembly clean so that dirt, trash, or other contaminants don't get in. Clean out the dirt and debris that has built up regularly to keep things running smoothly.
Operating Conditions: Ensure that the operating conditions, like temperature and load, are within the limits set for the cast bushings. Overheating or overusing something can cause it to wear out and break before it should.
Help from an Expert: If you have any problems or questions about forged bushings, talk to an experienced engineer or manufacturer. They can give you specific information about your application and help you solve any issues.
Many businesses need forged bushings because they are strong, durable, and reliable. Forged bushings made of carbon steel are inexpensive and have average strength, while stainless steel is very rust-resistant. Forged bushings made of duplex steel are strong and resistant to rust. By knowing the benefits and uses of cast bushings and how to keep them in good shape, mechanical systems can work well and last a long time. M-Pipe & Fitting Solution Inc offers certified forged fittings that meet foreign standards such as API, ASTM, and ISO 9001:2015.
| Forged Bushing Fittings | Specifications |
| --- | --- |
| Forged Bushing Types | Bushing Fittings: Elbow 90 Deg, Elbow 45 Deg. |
| Schedule | SCH5, SCH10, SCH20, SCH30, SCH40, STD, SCH80, XS, SCH60, SCH80, SCH120,SCH140, SCH160, XXS |
| Size | 1/8″NB to 24″NB & 1/4″OD TO 24″OD AND 6.35mm to 254mm OD Thickness: 0.6mm to 20mm |
| Type | Bushing 90, Bushing 45 |
| | |
| --- | --- |
| Stainless Steel | ASTM / ASME 201, 202, 301, 304, 304L, 310, 310S, 316L, 316TI, 317, 317L, 321, 347, 409, 409M, 409L, 410, 410S, 420, 430, 431, 441, 444, 446, 17.4PH, 904L |
| Super Duplex Steel | S32750 |
| Duplex Steel | ASTM / ASME SA 790 UNS NO S 31803 , S 32205 , S 32550 , S 32750 , S 32760. |
When working with forged fitting bushings, it's essential to follow proper installation procedures, including ensuring a tight and leak-free connection. Consulting relevant industry standards and seeking professional assistance is recommended for specific applications and requirements.
Gas Processing Industry

Pharmaceuticals Industry

Chemical Industry

Pulp and Paper Industry

Sea Water Equipment

Heat Exchangers

Condensers