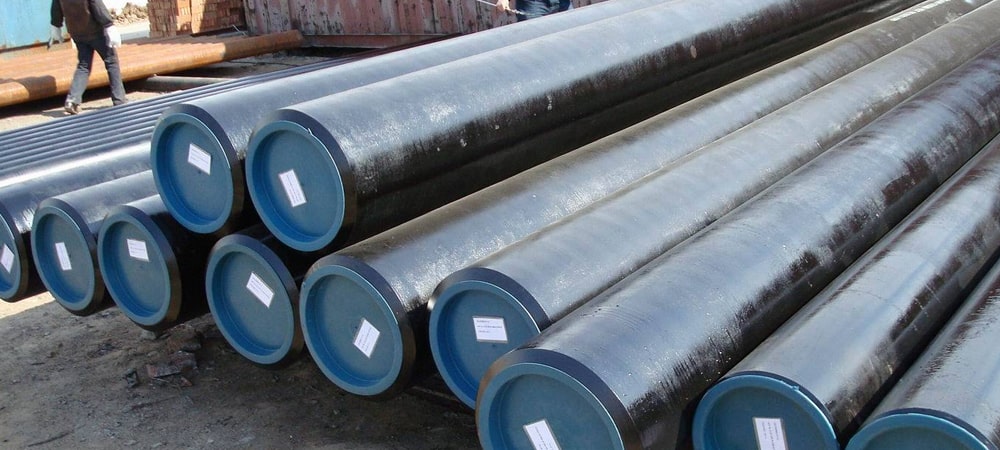 M-Pipe & Fitting Solution Inc is a reputable company that manufactures and supplies high-quality duplex steel 2205 forging. Duplex Steel 2205 has become a significant player in metallurgy because it has excellent mechanical qualities and is corrosion-resistant. Duplex Steel 2205 is a type of stainless steel with a composition that has both austenitic and ferritic phases. It makes it stronger and more durable. 
Forging is a way to make things by shaping metal by applying localized compressive forces. This method has several benefits. When it comes to Duplex Steel 2205, forging is one of the most important ways to use the material's natural qualities to make parts with high mechanical strength and resistance to corrosion. The material is heated to the right temperature, and compressive forces are used to make it into the desired shape.
One of the best things about making Duplex Steel 2205 is that it can improve the material's microstructure. During the forging process, the material goes through plastic deformation, which causes the coarse grains to break down and form a smaller grain structure. This structure of finer grains makes the material more robust and more challenging, making it perfect for use in demanding settings.
Forging Duplex Steel 2205 is used for:
Duplex Steel 2205 Forging is used a lot in many businesses because it has many great qualities. Duplex Steel 2205 Pipes and Tubes are made with it, one of the most essential uses. These parts are used extensively in oil and gas, chemical processing, and naval engineering, among other fields. The forged pipes and tubes are not only very resistant to corrosion from aggressive media but also very strong, which means they can handle situations with a lot of pressure. Duplex Steel 2205 pipes and tubes from this remarkable alloy are reliable for moving corrosive fluids or standing up to harsh conditions abroad.
Duplex 2205 Forged Discs are essential in businesses that need vital parts that don't wear out quickly. These discs are often used in big machinery, power equipment, and spacecraft. The forging gives the discs a unique grain structure and mechanical qualities that make them strong enough to handle heavy loads and cyclical stresses. Duplex Steel 2205 is also corrosion-resistant, meaning these parts will last even in harsh settings.
Duplex 2205 Seamless Forging makes the material even more helpful for essential uses. When joints or gaps could weaken the whole part, seamless forgings are better. Chemical processing and petrochemicals, which deal with high-pressure fluid transfer, often use Duplex 2205 seamless forged parts to ensure they work well and won't leak over time.
Advantages over other alloys:
Why is Duplex Steel 2205 different? 
Forging is different from regular stainless steel and other metals because it has a unique mix of qualities. It is solid because it has both austenitic and ferritic phases. It makes it possible to produce lighter and smaller parts without losing performance. It is beneficial in industries like automotive and aircraft, where reducing weight while keeping the strength of the structure is very important.
Duplex Steel 2205 is also resistant to pitting, crevice corrosion, and stress corrosion cracking. It is an excellent choice for uses exposed to corrosive environments, such as chemical processing plants, offshore drilling rigs, and desalination facilities. It is versatile and reliable because it can keep these qualities at various temperatures.
Duplex Steel 2205 Forging is an excellent example of how material science and engineering can work together to make great answers in metallurgy. The forging process amplifies this alloy's natural mechanical strength and resistance to corrosion, producing parts that work well in challenging settings. Duplex Steel 2205 Pipes, Tubes, Forged Discs, and Seamless Forgings are used in many industries, including oil and gas, aircraft, chemical processing, and many more. As technology improves and industries push performance limits, Duplex Steel 2205 Forging will likely play an even more significant role in shaping the future of essential applications. M-Pipe & Fitting Solution Inc provides certified pipes & tubes that meet international standards such as API, ASTM, and ISO 9001:2015.
| | | |
| --- | --- | --- |
| Specifications | : | ASTM A 790 ASME SA 790 |
| Dimensions | : | ASTM, ASME and API |
| Size | : | 1/2″NB TO 12 "NB IN |
| Specialized in | : | Large Diameter Size |
| Schedule | : | SCH20, SCH30, SCH40, STD, SCH80 |
| Type | : | Seamless / ERW / Welded / Fabricated |
| Form | : | Round, Hydraulic Etc |
| Length | : | Single Random, Double Random & Cut Length. |
| End | : | Plain End, Beveled End, Treaded |
S31803 / S32205
C
N
P
Si
Mn
Mo
Fe
Cr
S
Ni
1.0
0.03
0.02
2.0
3.0 – 3.5
22.0 – 23.0
0.03
4.5 – 6.5
0.14 – 0.2
Bal
The high chromium content in Duplex Steel 2205 contributes to its excellent corrosion resistance, particularly in environments containing chlorides, such as seawater. Chromium forms a passive oxide layer on the surface of the steel, protecting it from corrosion.
Gas Processing Industry

Pharmaceuticals Industry

Chemical Industry

Pulp and Paper Industry

Sea Water Equipment

Heat Exchangers

Condensers