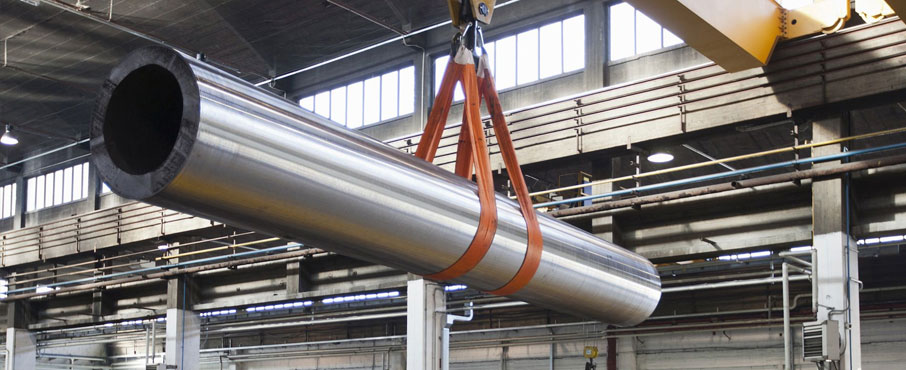 M-Pipe & Fitting Solution Inc is a reputable company that manufactures and supplies high-quality alloy steel p11 pipes and tubes. Alloy Steel P11 Pipes and Tubes are an important part of many businesses. They are known for being strong, durable, and able to withstand high temperatures. These pipes and tubes are often used in critical situations where they must work reliably under tough conditions. 
Understanding Alloy Steel P11 Pipes and Tubes:
Alloy Steel P11 is a common grade of seamless pipes and tubes made mostly of chromium and molybdenum. It has good mechanical properties and is resistant to corrosion. Adding these elements makes the material stronger at high temperatures and makes it perfect for use in places like power plants, petrochemical businesses, and refineries where temperatures are high.
Superior Seamless Performance: Alloy Steel Seamless Gr. P11 Pipes.
Alloy Steel Seamless Gr. P11 Pipes stand out because they are made without seams, so there is no chance of leaks or weak spots. The seamless manufacturing method ensures that the walls' thickness is the same and gives the product better mechanical properties. These pipes are great for high-pressure uses where reliability and structural integrity are most important.
Compliance with International Standards for ASTM A335 Grade P11 Alloy Steel Seamless Pipes:
ASTM A335 is the standard norm for high-temperature seamless ferritic alloy steel pipe. Grade P11 is made for seamless pipes and tubes that have better properties so that they can be used in a wide range of industrial uses. The quality and efficiency of these pipes and tubes are ensured by meeting ASTM standards.
ASTM A335 P11 Pipes and Their Versatility in Use:
ASTM A335 P11 Pipes are very flexible and can be used in many different businesses. Because they are so strong at high temperatures, they are great for steam pipes, boiler tubes, and superheaters. These lines and tubes are also used in power plants, chemical processing plants, and oil and gas refineries, making the processes much safer and more efficient overall.
Alloy Steel ERW P11 Pipes: Strong and affordable:
Alloy Steel ERW P11 Pipes are made of P11 grade alloy steel and are Electric Resistance Welded. They are known for how well they can be welded and how cheap they are. These pipes are often used for less important tasks that need steady performance but don't require the high-temperature resistance needed in high-temperature environments. The ERW process ensures the parts are the right size and quality for use in many industries, like building and infrastructure.
Mechanical Properties of Alloy Steel P11 Pipes and Tubes: The mechanical properties of Alloy Steel P11 Pipes and Tubes are a big part of how well they work in different situations. P11 alloy steel usually has a high tensile strength, good yield strength, good hardness, and stiffness that is hard to beat. Because of these qualities, the pipes and tubes can handle high stress and harsh environments. It makes them perfect for uses that require a lot of strength.
Rust Resistance: Because they are made of chromium, Alloy Steel P11 Pipes and Tubes are rust-resistant. By forming a passive oxide layer on the surface, corrosive substances can't damage the material. It makes the pipes and tubes last longer, even in harsh settings.
High-Temperature Performance: One of the most important things about Alloy Steel P11 Pipes & Tubes is how well they work at high temperatures. These pipes and tubes can withstand temperatures up to 600°C (1112°F) without losing much of their mechanical properties. It makes them perfect for high-temperature settings like steam pipelines and superheaters.
Uses of Alloy Steel P11 Pipes and Tubes: The versatility of Alloy Steel P11 Pipes and Tubes makes them essential in a wide range of business settings. Some well-known uses are:
Power Generation: P11 pipes and tubes are often used for superheaters, reheaters, and steam pipelines in power plants, where they help make electricity more efficient.
Petrochemical Industries: These pipes and tubes are important in refineries and petrochemical plants for moving harmful fluids and gases under high pressures and temperatures.
Oil & Gas: P11 pipes are used to drill oil wells and move heavy oil and natural gas in the oil and gas industry.
Chemical Processing: They are used in the chemical processing industry, where their resistance to corrosion and ability to work at high temperatures is important for handling chemicals safely and efficiently.
Boilers and heat exchangers: Alloy Steel P11 Pipes & Tubes are used to make boilers, heat exchangers, and condensers because they are strong at high temperatures and work well.
In conclusion, Alloy Steel P11 Pipes & Tubes are important parts of modern engineering and industry because they are strong, resistant to rust, and can work in high temperatures. Because they meet international standards, have good mechanical qualities, and can be used in various ways, they are popular for important tasks in the power generation, petrochemical, oil and gas, and chemical processing industries. Whether the pipes are seamless or ERW, the strength and low cost of the alloy add to the overall safety and efficiency of many industrial processes. Alloy Steel P11 Pipes & Tubes will continue to be a key part of the future of engineering and industrial uses as technology improves. M-Pipe & Fitting Solution Inc provides certified Pipes & Tubes that meet international standards such as API, ASTM, and ISO 9001:2015.
Type
Seamless / ERW / Welded / Fabricated
Standard
ASTM A335 P11, SA335 P11 (with IBR Test Certificate)
Craft
Cold rolled and Cold drawn
Length
Standard
Double &
In Cut length also.
Schedules
SCH 40, SCH 80, SCH 160, SCH XS, SCH XXS, All Schedules
Origin
European, Japanese, Korean, US, Russian, Indian (Strictly No Chinese Material)
Size
1/2" NB to 36" NB
Tolerance
Cold drawn pipe: +/-0.1mm

Cold rolled pipe: +/-0.05mm

Specialized in
Large Diameter ASTM A335 P11 Pipe
available in Form of
Round, Square, Rectangular, Hydraulic Etc.
Application
Seamless Ferritic Alloy-Steel Pipe for High-Temperature Service
End
Plain End, Beveled End, Treaded
Additional Testing
NACE MR 0175, NACE TM0177, NACE TM0284, HIC TEST, SSC TEST, H2 SERVICE, IBR, etc.
Thickness
3-12mm
| | |
| --- | --- |
| UNS Designa-tion | K11597 |
| Carbon | 0.05-0.60 |
| Manganese | 0.30-0.60 |
| Phosphorus(max.) | 0.025 |
| Sulfur(max.) | 0.025 |
| Silicon | 0.50-1.00 |
| Nickel | … |
| Chromium | 1.00-1.50 |
| Molybdenum | 0.44-0.65 |
| Other Elements | … |
In addition to the above elements, Alloy Steel P11 Pipes/Tubes may contain small amounts of other elements such as nickel (Ni), vanadium (V), and boron (B) to further enhance specific properties.
Gas Processing Industry

Pharmaceuticals Industry

Chemical Industry

Pulp and Paper Industry

Sea Water Equipment

Heat Exchangers

Condensers