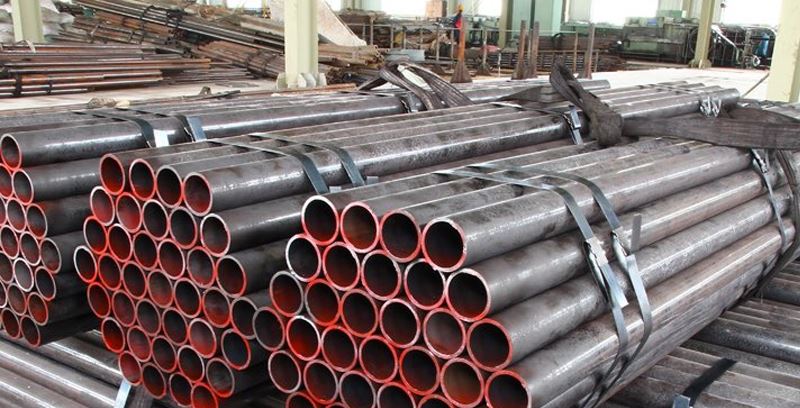 M-Pipe & Fitting Solution Inc is a reputable company that manufactures and supplies high-quality alloy steel p91 pipes & tubes. In the world of industrial uses, strong, reliable pipes that can handle high temperatures and pressures are a must. Alloy Steel P91 Pipes & Tubes have become an excellent choice for such vital needs. These pipes and tubes are made with ASTM A335 Alloy Steel P91 Seamless Pipes and meet ASME SA335 standards, which makes them very popular in many businesses. 
Understanding Alloy Steel P91 Pipes and Tubes:
Alloy Steel P91 Pipes & Tubes are made of a unique mix of chromium, molybdenum, and other alloying elements. It creates a material with great qualities, especially at high temperatures. ASTM A335 Gr P91 Pipes are seamless, which allows for smooth flow within the pipelines and gives them more power and durability. These pipes are made under strict quality control measures that follow ASTM standards. It makes them reliable and able to handle extreme conditions.
Advantages of Alloy Steel P91 Pipes and Tubes:
High-Temperature Strengths:
One of the best things about Alloy Steel P91 Pipes & Tubes is that they are very strong at high temperatures. The chromium and molybdenum in the metal give it excellent resistance to creep and breakage. It means these pipes can keep their shape even after being exposed to high temperatures for a long time.
Corrosion Resistant:
Alloy Steel P91 Pipes & Tubes are highly resistant to corrosion, so they can be used in harsh situations where other materials might fail. By adding chromium, their ability to fight corrosion is improved. It makes them last longer and works more reliably in various situations.
Excellent Welding:
ASTM A335 Gr P91 Pipes are easy to weld, which is important for integrating them into complicated piping systems. This feature makes it easy to build and install, reducing downtime during building and maintenance.
High-Pressure Capability:
Alloy Steel P91 Pipes and Tubes have a high tensile strength, which makes them perfect for high-pressure applications. These pipes can withstand high pressure without losing their performance, ensuring that important industrial processes are safe and run well.
Applications for Alloy Steel P91 Pipes and Tubes:
Power Production:
In the power generation business, Alloy Steel P91 Pipes & Tubes are used a lot in power plants' superheater and reheater tubing. The fact that P91 can handle high temperatures and pressures, as well as the fact that it doesn't stretch or break, makes it a great choice for converting heat energy into electricity.
Petrochemical Industry:
The petrochemical business uses Alloy Steel P91 Pipes & Tubes to transport chemicals and hydrocarbons. These pipes are very corrosion-resistant and can work in harsh conditions, ensuring that important petrochemical products can be moved safely and reliably.
Oil and natural gas exploration:
Alloy Steel P91 Pipes & Tubes are very important in the oil and gas industry, where they are used for drilling, production, and shipping. They are essential in this tough business because they don't rust and can withstand high pressures and temperatures.
Airspace and Aviation:
Alloy Steel P91 Pipes & Tubes have great high-temperature strength and structural integrity, which helps the aerospace and aviation businesses. These pipes are used in airplane engines and other important parts where reliability and performance are most important.
Keeping with industry standards:
Alloy Steel P91 Pipes & Tubes meet several international and industry-specific standards, such as ASTM A335 and ASME SA335. These standards ensure the pipes and tubes meet certain mechanical and chemical requirements. It ensures they work well and are of good quality in various situations.
In conclusion, Alloy Steel P91 Pipes & Tubes are the best choice for high-temperature and high-pressure uses in many businesses. Their high strength, corrosion resistance, ability to be welded, and conformance to industry standards make them essential to many engineering processes. Whether it's in power generation, petrochemicals, oil, and gas, or aircraft, the reliability and efficiency of Alloy Steel P91 Pipes & Tubes continue to raise the standards for industrial performance. As technology improves, these piping solutions will stay at the forefront of modern engineering, ensuring that the world's most important systems work smoothly and safely. M-Pipe & Fitting Solution Inc provides certified Pipes & Tubes that meet international standards such as API, ASTM, and ISO 9001:2015.
Standard: ASTM A335, ASME SA335
Alloy steel relevant material: 16-50Mn, 27SiMn, 40Cr, 12-42CrMo, 16Mn12Cr1MoV, 27SiMn, 30CrMo, 15CrMo, 20G, Cr9Mo, 10CrMo910, 15Mo3, 15CrMoV, 35CrMoV, 45CrMo, 15CrMoG, 12CrMoV, 45Cr, 50Cr, 45CrNiM, P5, P9, P11, P22, P23, P91, P92, T11, T12, T22, T23, T91,T92 and so on.
Steel Grade: SA335 Grade P91 ASTM A335 Grade P91
Alloy Steel Pipes:- ASTM A335 GR P91.
Size Range: 1/2″ – 24″ 
Schedules: 20, 30, 40, Standard (STD), 60, Extra Heavy (XS), 80, 100, 120, 140, 160, XXS
Material: P91, K91560
 
C
Si
Mn
P
S
AL
Cr
Cu
Mo
N
Nb
Ni
V
1.4903
Min%
0.08
 
0.30
 
 
 
8.0
 
0.85
0,030
0,060
 
0.18
Max %
0.12
0.50
0.60
0,020
0.005
0,040
9.50
0.30
1.05
0,070
0,100
0.30
0.25
The carbon content in P91 alloy steel is typically kept low, usually within the range of 0.08% to 0.12%. The low carbon content helps in reducing the susceptibility to embrittlement and improves weldability.
Gas Processing Industry

Pharmaceuticals Industry

Chemical Industry

Pulp and Paper Industry

Sea Water Equipment

Heat Exchangers

Condensers