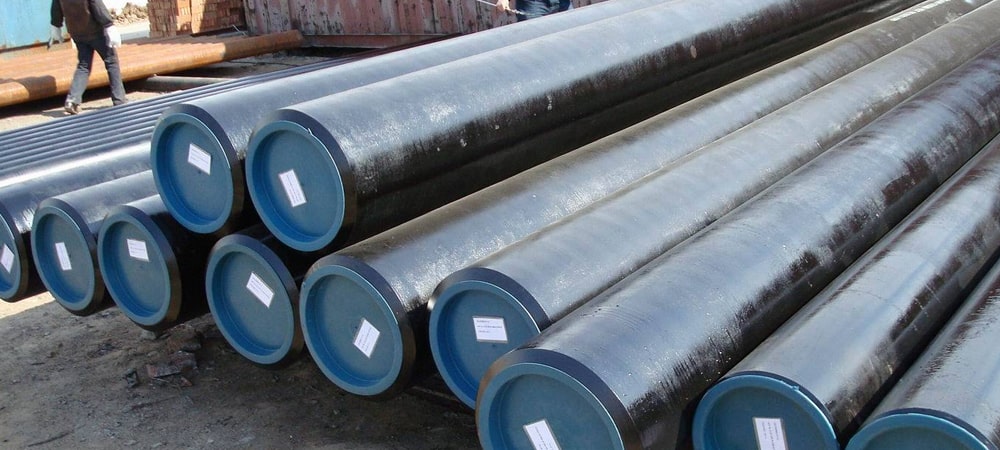 M-Pipe & Fitting Solution Inc is a reputable company that manufactures and supplies high-quality titanium grade 5 pipes. Titanium Grade 5 Pipes are a great example of the fantastic things that can be done with titanium metals in the modern industrial world. These pipes have gotten a lot of attention from many different businesses because of how strong they are, how well they resist corrosion, and how light they are. Titanium Grade 5 Pipes have been used in everything from aircraft engineering to medical devices, and they have shown that they are the best at what they do.
Titanium Grade 5 ERW Pipes are welded to make them last longer.
The ERW (Electrical Resistance Welded) type of Titanium Grade 5 Pipes stands out as a great example of how durable and well-made something can be. During the process of making these pipes, electric currents join the edges of the titanium sheets, creating a strong and smooth joint. This welding method ensures that the material keeps its natural resistance to corrosion. It makes Titanium Grade 5 ERW Pipes an excellent choice for industries like chemical processing and naval engineering, where opposition to harsh environments is significant.
Titanium Grade 5 Seamless Pipes: The Definition of Seamlessness
Titanium Grade 5 Seamless Pipes take center stage when a steady, unbroken flow is essential. Since these lines don't have any welded joints, they have excellent fluid dynamics and a low risk of leaks and contamination. For the seamless method, a solid billet of titanium is heated and pushed through a die to make a pipe. It gives the pipe a uniform structure with no weak spots. Titanium Grade 5 Seamless Pipes are a good choice for industries like oil and gas, where the smooth flow of fluids is significant.
ASTM B861 titanium pipes meet the highest standards
The requirements for seamless and welded titanium pipes, like Titanium Grade 5 Pipes, are set by the ASTM B861 specification. By following these rules, the pipes are sure to meet high standards for quality and efficiency. It is essential because these lines are used for many different and complex tasks. ASTM B861 Titanium Pipes ensure that everything works reliably and consistently, from airplane parts that have to withstand high temperatures and pressures to medical treatments that must be biocompatible and last a long time.
Where Strength and Flexibility Meet: Titanium Grade 5 Welded Pipes
Titanium Grade 5 Welded Pipes are the best choice when strength and flexibility are essential. The sheets or plates of titanium are welded together to make these pipes. It combines the power of the material with the ability to create intricate patterns. Because of this, they are instrumental in fields like building and car engineering, where solid structures and flexible designs go hand in hand. The welds are done carefully to keep the Grade 5 titanium alloy's overall properties. It ensures that the end product keeps its high mechanical strength and resistance to corrosion.
Uses in different industries: a sign of versatility
Titanium Grade 5 Pipes are helpful in many fields, showing their versatility and reliability. In in-flight engineering, where parts have to work in harsh conditions, and weight is a big deal, these pipes are used in airplanes' frames, landing gear, and engine parts. Because they are biocompatible and don't react with body fluids, they are used in surgery implants, pacemakers, and other medical tools. Chemical processing companies use them to move dangerous chemicals because they don't rust, and the oil and gas industry uses them to move fluids over long distances because they are reliable.
Changes and Innovations: Creating the Future
As technology and materials science improve, Titanium Grade 5 Pipes could be used for anything. Additive manufacturing methods, like 3D printing with titanium powders, are making it possible to make pipes with shapes that were not possible before. These methods make it possible to create complicated internal forms that improve how fluids flow or how strong a structure is. Also, researchers are constantly working to make titanium metals easier to weld. It means that Titanium Grade 5 Welded Pipes will continue to be important in industries that need strength and design flexibility.
Titanium Grade 5 Pipes are the best industry materials regarding how well and reliably they work. Their high strength, corrosion resistance, and ability to be used in many different ways have made them essential in aerospace, medicine, chemistry, and more. Whether they are ERW, seamless, or welded pipes, each has features that meet each application's needs. M-Pipe & Fitting Solution Inc provides certified pipes & tubes that meet international standards such as API, ASTM, and ISO 9001:2015.
Pipe Specification : ASTM B861, B862 / ASME SB861, SB862
Dimension Standard : ANSI B36.19M, ANSI B36.10
Titanium Gr 5 Pipe Size : 1/4″ sch 10 to 16″ sch 80
Titanium Gr 5 Tube Size : OD 1/16″~4″, Wall: 0.010″~0.250″, Length: 17'/24′ FT R/L
Outside Diameter : 6.35 mm OD upto 254 mm OD in 0.6 TO 20 mm thickness
Type : Seamless / ERW / Welded / Fabricated Pipes
Form : Round, Square, Rectangular, Oval, Hydraulic Etc
Length : Single Random, Double Random & Required Length
End : Plain End, Beveled End, Treaded
End Protection : Plastic Caps
| | | | | | | |
| --- | --- | --- | --- | --- | --- | --- |
| Grade | C | N | O | H | Ti | Fe |
| Titanium Gr 5 | 0.10 max | 0.05 max | 0.25 max | 0.015 max | Bal | 0.40 max |
This composition gives Grade 5 Titanium Pipes their distinctive properties, combining the benefits of titanium, aluminum, and vanadium. Titanium provides excellent corrosion resistance, high strength-to-weight ratio, and biocompatibility. Aluminum enhances the alloy's strength, formability, and weldability, while vanadium contributes to its toughness and heat resistance.
Gas Processing Industry

Pharmaceuticals Industry

Chemical Industry

Pulp and Paper Industry

Sea Water Equipment

Heat Exchangers

Condensers