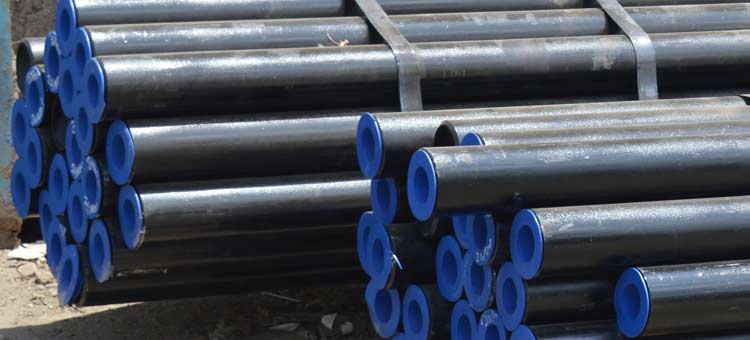 M-Pipe & Fitting Solution Inc is a reputable company that manufactures and supplies high-quality api 5L X60 pipes. API 5L X60 pipes are an important part of the oil and gas business because of how well they work, how long they last, and how useful they are. These pipes are made to meet the American Petroleum Institute (API) standards and the needs of moving fluids, gas, and oil under high pressure. 
Getting to Know API 5L X60 Pipes
API 5L X60 pipes are part of the API 5L standard, which describes the requirements for seamless and welded steel pipes to move oil, gas, and other materials. Carbon steel is used to make these pipes, and they have small amounts of manganese, phosphorus, sulfur, and silicon added to them to improve their mechanical qualities. Adding these elements makes API 5L X60 pipes stronger, tougher, and less likely to rust. It makes them perfect for demanding uses.
API 5L X60 Seamless Pipes: The Best Way to Get Things Done
When making API 5L X60 seamless pipes, a solid circular billet is turned into a hollow tube through hot rolling or cold drawing. Because there are no weld seams, the structure is more uniform and can handle higher forces better. Seamless pipes are known for having a high tensile strength, which makes them better for essential uses in the oil and gas business. The lack of weld seams makes fluids less likely to leak, which is very important when working with dangerous fluids.
API 5L X60 Welded Pipes: Making Sure They Are Robust and Dependable
Welding joins two or more steel plates or strips to make API 5L X60 welded pipes. Welded pipes are cheaper and often used when they don't have to handle as much pressure as smooth pipes. They come in different lengths and widths to meet a wide range of needs in the energy industry. Even though welded pipes may not have as much tensile strength as smooth pipes, they are still very durable and work well in less critical situations.
API 5L X60 ERW Pipes: Striking the Balance
Electric Resistance Welded (ERW) pipes are often used when there needs to be a balance between cost and efficiency. API 5L X60 ERW pipes are made by running an electric current through a steel plate or coil to heat it. The heat then melts the ends of the steel plate or coil together. ERW pipes are known for having exact measurements, being perfectly round, and having a smooth surface. They are used a lot in the oil and gas industry to move oil and gas, as well as in construction, the car industry, and infrastructure.
API 5L X60 Pipes Are Used For
API 5L X60 pipes are essential to the oil and gas business. They are used in many ways during production, processing, and transport. Some of the most important uses are:
Oil and Gas Transportation: API 5L X60 pipes are often used to move crude oil, natural gas, and refined petroleum products from the extraction sites to processing plants and end users.
Offshore Platforms: API 5L X60 pipes are used to move oil and gas from seabed wells to platforms on the top during offshore drilling.
Pipeline Construction: These pipes are the backbone of long-distance pipelines. They move energy resources quickly and reliably across countries and regions.
Refineries and Petrochemical Plants: API 5L X60 pipes move fluids between processing units and storage areas in refineries and petrochemical plants.
Construction Industry: These pipes are used for structural reasons in the construction industry, such as building supports, piling foundations, and other infrastructure projects.
Advantages of API 5L X60 Pipes
API 5L X60 pipes are popular in the oil and gas business because they have several benefits:
High strength and durability: API 5L X60 pipes can handle high pressure because they have a minimum yield strength of 60,000 psi (415 MPa) and are very resistant to cracking and warping.
Resistance to Corrosion: The alloying elements in API 5L X60 pipes make them more corrosion resistant, so they can be used where corrosion is a problem.
Wide Range of Sizes: These pipes come in a wide range of sizes and diameters to meet the needs of different projects and uses.
Versatility: API 5L X60 pipes can be used in various temperatures and conditions to be used both ashore and offshore.
Cost-effective: Welded and ERW pipes can save money without sacrificing reliability, which makes them the best choice for some uses.
Testing and making sure things are good
API 5L X60 pipes undergo much testing and quality control to meet industry standards. Some common tests are hydrostatic testing, ultrasonic testing, chemical analysis, hardness testing, and dimension checking. These tests show that the pipes are solid and reliable and promise they will work safely and well in tough environments.
API 5L X60 pipes are essential to the oil and gas business because they work well, last a long time, and are reliable. API 5L X60 is the standard for moving oil, gas, and fluids. Seamless pipes are used for the most important uses, while welded, and ERW pipes are used in less demanding environments. Because they are strong, don't rust, and can be used in many different ways, they are perfect for a wide range of uses in the energy sector. M-Pipe & Fitting Solution Inc provides certified pipes & tubes that meet international standards such as API, ASTM, and ISO 9001:2015.
Grade of material
X60 / L415 (N, M, Q, R) /td>
Standard
ISO 3183 L415/ API 5L X60
API 5L X60 Seamless Pipe (OD)
21.3 – 660mm ( Inch 1/2" – 26")
X60 SAW
16″ – 100″ NB
API 5L X60 PSL2 ERW and HFW
1/2" NB – 24" NB
Grade L415 X60 LSAW / DSAW
16'OD TO 54″ OD (8 MM TO 50 MM THK)
API 5L X60 PSL1 Pipe end

Pub Joints, Coupling, Deburring, Flanged Ends, Grooved, Buttweld, Beveled End (BE), Square Cut, Thread Cutting, Cut Grooves, Squared Ends, Chamfering, Plain end (PE), Threaded Ends (Male & Female), Vibrator Grinding, Socket, Screwed

X60 Carbon Steel Pipe Length
DRL, SRL, 20FT, 40FT, Single Random Length (SRL), Double Random Length (DRL), and Fixed Length 5.8 Meter, 12.0 Meters (40FT), 6.0 Meters (20FT), 11.8 Meters
API 5L X60 Wall Thickness
SCH160, SCH-STD, SCH-XXS, SCH-XS, SCH40, SCH80,
PSL Level

API 5L X60 PSL1
 
API 5L X60 PSL2
X60 PSL1
X60 PSL2
Grade
P
C
S
Mn
S
C
P
Mn
X60
0.03
0.26
0.03
1.40
0.015
0.22
0.025
1.45
M-Pipe & Fitting Solution Inc, a reputable company specializing in API 5L X60 pipes, ensures that the pipes they supply adhere to the required chemical composition standards, providing customers with high-quality and reliable products.
Gas Processing Industry

Pharmaceuticals Industry

Chemical Industry

Pulp and Paper Industry

Sea Water Equipment

Heat Exchangers

Condensers