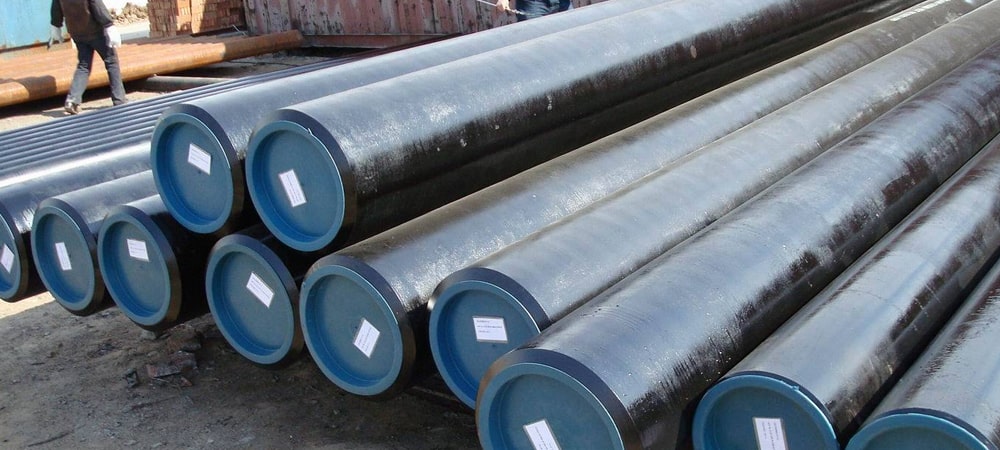 M-Pipe & Fitting Solution Inc is a reputable company that manufactures and supplies high-quality ASTM a53 grade B pipes. ASTM A53 Grade B pipes are a common and essential part of many businesses. They are used to move fluids and gases. These pipes are made in three types: seamless, ERW (Electrical Resistance soldered), and soldered. Each type has its special qualities and uses. 
ASTM A53 Grade B Seamless Pipes:
ASTM B53 Grade B Seamless Pipes are highly regarded for their strength, longevity, and the fact that they are made in one piece. These pipes are made by cutting a solid billet to make a hollow cylinder shape. It means that no welding is needed. The seamless manufacturing process ensures that the structure is uniform and strong, which reduces the risk of leaks and weak spots. Seamless pipes work well in high-pressure situations. It makes them perfect for moving water, steam, and other essential fluids in oil and gas, petrochemical, and power production industries.
The lack of a welded seam makes it impossible for corrosion to form along the joint, making seamless pipes very immune to internal and external pressure. Also, the fact that these pipes aren't welded makes them look better, making them better for artistic and structural uses.
ASTM A53 Grade B EFW Pipes:
ASTM B53 Grade B ERW Pipes are made with a method called "Electric Resistance Welding," in which the edges of a steel plate or strip are heated and melted together to make a long joint. ERW pipes are much cheaper than seamless pipes and can be used in many fields, like water supply, plumbing, and construction.
ERW pipes are known for their versatility because they can be easily formed into different forms and sizes. These pipes can be used for both low- and medium-pressure uses, and they work well when moving non-critical fluids, air, and gases. Even though they may not be as strong as seamless pipes in high-pressure environments, they are still a safe and cost-effective choice for many uses.
One big benefit of ASTM A53 Grade B ERW Pipes is that they go through many quality control checks while they are being made. It ensures that the wall thickness is the same and that the tolerances are tight. It leads to the same performance and structural stability.
ASTM A53 Grade B Welded Pipe:
ASTM B53 Grade B Welded Pipes are made by rolling and bonding a steel plate or strip into a cylinder shape, making a strong and long-lasting joint. Welded pipes are cost-effective and are used in many situations where high strength is not the main worry but where durability and resistance to mechanical stresses are essential.
Different kinds of welded pipes exist, like straight and spiral welded tubes. Longitudinal welded pipes are often used in low-pressure situations, such as water distribution, plumbing, and fences. On the other hand, spiral-welded tubes are better for moving bulk materials and are often used in infrastructure projects and for moving fluids in industries like gardening and mining.
A53 Grade B Pipes: A Comparative Analysis
To better understand the changes between ASTM A53 Grade B Seamless, ERW, and Welded Pipes, let's make a comparison:
Sturdiness and durability:
Seamless Pipes: These pipes have a higher tensile strength because their parts are all the same and there are no joints. They are very strong and can withstand a lot of pressure, making them better for critical uses.
ERW Pipes: While less strong than seamless pipes, ERW pipes are strong enough for most general-purpose uses. They work well in low- to medium-pressure settings and last long.
Welded Pipes: Welded pipes have strong joints but may be weaker than smooth and ERW pipes. However, they are still better for many non-critical uses.
The manufacturing process:
Seamless Pipes: To make a seamless pipe, you must make a solid billet hole. It takes advanced machinery, which drives up production costs.
ERW Pipes: The Electric Resistance Welding method is cost-effective and efficient, which makes ERW pipes more affordable.
Welded Pipes: Welded pipes also have a lower production cost because they are easier to make.
Application:
Seamless pipes, such as oil and gas transmission, steam lines, and boiler tubes, are often used in high-pressure uses. They are also preferred in critical businesses where preventing leaks is essential.
ERW Pipes: ERW pipes are used for water supply, plumbing, HVAC systems, and other engineering uses.
Welded Pipes: Welded pipes are widely used in construction, infrastructure tasks, and for moving large amounts of materials.
ASTM A53 Grade B pipes come in a wide range of options to meet the unique needs of many industries. Seamless pipes are the best choice for critical uses where strength and no leaks are the most important. On the other hand, ERW pipes are a cost-effective option for low- to medium-pressure applications. In contrast, welded pipes are chosen for their durability and cost-efficiency in non-critical settings.
Before choosing the right type of ASTM A53 Grade B pipes for your project, it is essential to consider specific needs, budget limits, and environmental factors. Talking to experienced professionals and manufacturers can help you make an informed choice that fits the needs of your project best. Whether you need seamless, ERW, or welded pipes for industrial uses, ASTM A53 Grade B has a variety of reliable choices. M-Pipe & Fitting Solution Inc provides certified pipes & tubes that meet international standards such as API, ASTM, and ISO 9001:2015.
| | |
| --- | --- |
| Specifications | ASTM A53 ASME SA53 |
| Dimensions | ASTM, ASME and API |
| Size | 1/2" NB to 36" NB |
| Thickness | 3-12mm |
| Schedules | SCH 40, SCH 80, SCH 160, SCH XS, SCH XXS, All Schedules |
| Type | Seamless / ERW / Welded / Fabricated |
| Form | Round, Hydraulic Etc |
| Length | Min 3 Meters, Max18 Meters, or according to customer's requirement |
| End | Plain End, Beveled End, Treaded |
Grade
Chemical Composition (%) Max.
C
Mn
P
S
Cu
Ni
Cr
Mo
V
A
0.25
0.95
0.05
0.045
0.4
0.4
0.4
0.15
0.08
B
0.3
1.2
0.05
0.045
0.4
0.4
0.4
0.15
0.08
The company's ASTM A53 Grade B ERW pipes are manufactured using the highest quality raw materials and advanced production techniques. The pipes are produced in compliance with ASTM A53 standards, ensuring that they meet the required mechanical and chemical properties. They are available in different sizes ranging from ½ inch to 24 inches in diameter, with varying wall thicknesses to suit specific application needs.
Gas Processing Industry

Pharmaceuticals Industry

Chemical Industry

Pulp and Paper Industry

Sea Water Equipment

Heat Exchangers

Condensers