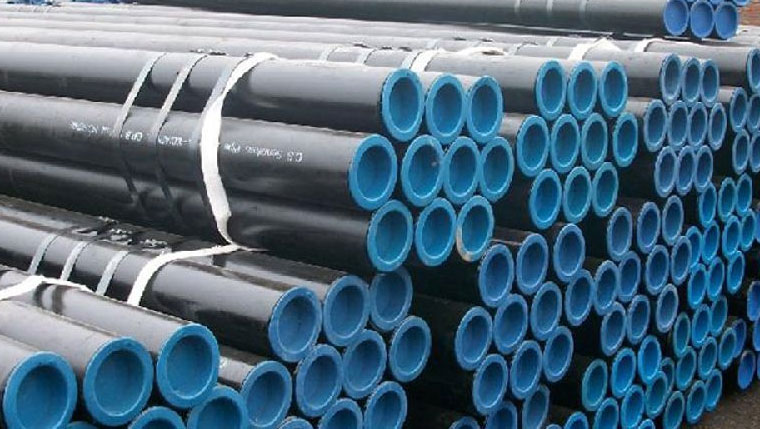 M-Pipe & Fitting Solution Inc is a reputable company that manufactures and supplies high-quality api 5L X65 pipes. API 5L X65 pipes have become the most popular choice for many uses because of their excellent qualities and unbeatable performance. These pipes were designed and made to meet the API 5L specifications. They are very strong, easy to weld, and corrosion resistance, making them perfect for both onshore and offshore tasks.
Understanding API 5L X65 Pipe
API 5L X65 pipes are part of the API 5L design, which sets the rules for making steel pipes that move natural gas, oil, and other fluids. These carbon steel pipes go through strict quality control steps to ensure they meet the API 5L X65 standard. The X65 grade means that the minimum yield strength is at least 65,000 psi, which makes them ideal for demanding uses in harsh environments.
API 5L X65 Seamless Pipes
API 5L X65 seamless pipes are known for having a smooth, uninterrupted inner surface, which ensures that fluids flow smoothly and reliably. If there are no weld gaps, there is no chance of leaks, and there are less likely to be weak spots in the pipeline, making it last longer. Seamless pipes, like long-distance pipelines and offshore drilling operations, are especially good for high-pressure uses. The process of making pipes includes either hot rolling or cold drawing. It makes pipes with precise dimensions and better mechanical properties.
API 5L X65 Welded Pipes
API 5L X65 welded pipes are made by joining two different steel plates using either the electric resistance welding (ERW) or submerged arc welding (SAW) method. These pipes are very strong and can be used in less essential situations. Welded pipes are less expensive than seamless ones, making them popular for many commercial uses, such as water distribution systems and low-pressure fluid transportation.
API 5L X65 ERW Pipes
API 5L X65 ERW pipes are made by rolling a steel plate into a cylinder shape and then running a high-frequency current through the joint to weld the edges together. ERW pipes are known for being uniform and having great dimensional correctness. They are widely used in midstream operations, such as oil and gas gathering systems and refining processes. ERW pipes are also a cost-effective choice for many projects because they can be used for many different things and are easy to install.
Benefits of API 5L X65 Pipes
High Strength and Durability
API 5L X65 pipes are praised for their high strength and toughness, which makes them better for handling high-pressure fluids and withstanding harsh weather conditions. Their better mechanical qualities make them last longer and need less maintenance, making them more cost-effective.
Corrosion Resistant
Corrosion is a big problem in oil and gas, where pipelines are exposed to corrosive substances. API 5L X65 pipes are very resistant to corrosion, which keeps the stability of the pipelines they are in use. This quality is especially essential for offshore installations and subsea pipes, where saltwater can damage other materials.
Weldability
The fact that API 5L X65 pipes can be welded is a useful quality that makes installation and repair easier. The seamless pipes, particularly, are easier to weld because they don't have seams. It makes the welding process easier and improves the general strength of the joints.
Cost-Effective Solution
API 5L X65 pipes are a cost-effective solution for the oil and gas business. Due to their long life, resistance to corrosion, and ease of installation, upkeep and replacement costs are lower over the pipeline's lifetime.
Uses of API 5L X65 Pipes
Oil and Gas Transport
The main use of API 5L X65 pipes is to move oil and natural gas from the fields where they are made to processing plants and then to customers. These pipes' seamless, welded, and ERW types are widely used in the oil and gas delivery network because they are reliable and last a long time.
Platforms Offshore
Pipelines for offshore drilling platforms need to be strong and resistant to corrosion because of the harsh marine climate. API 5L X65 pipes, especially the seamless ones, work well in these conditions and are often used for risers, flowlines, and other essential parts.
Petrochemical Industry
In the petrochemical business, where fluids and gases need to be moved, API 5L X65 pipes are used in process piping to move things safely and efficiently.
Water Supply
API 5L X65 welded pipes are also used in water distribution systems to get clean, safe drinking water to cities and rural places.
API 5L X65 pipes are the best in terms of reliability and performance in the oil and gas business. With their high strength, resistance to corrosion, and ability to be welded, these pipes have become the preferred choice for various uses, from transporting oil and gas to industrial processes. Whether seamless, welded, or ERW, API 5L X65 pipes continue to play a key role in supporting the global energy grid. It makes them a vital part of the modern industrial landscape. M-Pipe & Fitting Solution Inc provides certified pipes & tubes that meet international standards such as API, ASTM, and ISO 9001:2015.
Grade
Api 5l X65
Sizes
NPS : 1/2″ to 48 " Outside Diamter
WT : XS, Sch. 10 to 160, STD, XXS.
Specification Level (PSL)

X65 PSL 1
X65 PSL 2
Origin
European, Korean, Russian, US, Japanese, Ukraine, Indian origin
Thickness
All Schedules SCH 80, SCH 40, SCH XS, SCH 160, SCH XXS
Pipe End
Bevel, Plain, Threaded, Screwed
Type
ERW / Seamless / Fabricated / Welded /CDW
Length
Double Random, Single Random and As per your need
Grade
Chemical Composition
 
C
Si
Mn
P
S
V
Nb
Ti
API 5L X65
0.16
0.45
1.65
0.020
0.010
0.09
0.05
0.06
The maximum phosphorus content allowed in API 5L X65 pipes is 0.030%. Phosphorus is a harmful impurity in steel and needs to be controlled to ensure good weldability and structural integrity.
Gas Processing Industry

Pharmaceuticals Industry

Chemical Industry

Pulp and Paper Industry

Sea Water Equipment

Heat Exchangers

Condensers