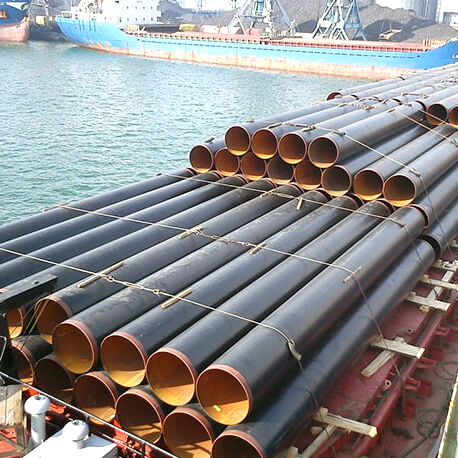 M-Pipe & Fitting Solution Inc is a reputable company that manufactures and supplies high-quality ASTM a53 seamless pipes & tubes. ASTM A53 is a standard specification for steel pipes and tubes widely used and made for various industrial uses. It includes seamless and welded pipes, including carbon steel pipes, often used to move fluids and gases in different businesses. 
Understanding ASTM A53 Seamless Pipes and Tubes
ASTM A53 seamless pipes and tubes are made through "hot working." The starting material is usually rolled or formed into a billet, then pierced to make a hollow shell. The shell is then stretched and proceeded to the correct size and thickness. The factTheseon't have any weld seams makes t making an excellent choice for high-pressure and critical uses.
Seamless pipes have several benefits over welded pipes, such as being more robust, more uniform, and able to handle higher operating pressures and temperatures. Because of these qualities, ASTM A53 seamless pipes widened in businesses such as oil and gas, petrochemicals, water supply, and construction.
Key Features of ASTM A53 Seamless Pipes and Tubes:
Excellent Strength: ASTM A53 seamless pipes are robust and durable, which makes them suitable for high-stress uses.
Corrosion Resistance: These pipes are made to prevent corrosion in various environments, making them last longer.
Uniformity: Seamless lines have the same thickness throughout, ensuring they work well and reliably every time.
High-Pressure Resistance: These pipes are made without seams, so they can easily handle high-pressure uses.
Versatility: ASTM A53 seamless pipes are used in many businesses because they can be used with different fluids and gases.
Applications of ASTM A53 Seamless Pipes and Tubes:
In the oil and gas industry, these pipes are widely used to move oil and gas from production areas to refineries and processing units.
ASTM A53 seamless pipes are crucial in moving petrochemical goods like chemical solvents and gases in the petrochemical industry.
Water Supply: They are used for water pipes, irrigation systems, and distribution networks.
Construction: Seamless pipes, like building frames and support structures, are often used in structural uses.
Mechanical and Engineering uses: ASTM A53 pipes are used in many mechanical and engineering uses because they are solid and reliable.
Understand A53 Welded Pipes
Electric Resistance Welding (ERW) makes ASTM A53 welded pipes. In this method, the sides of the steel plate or coil are heated and melted together to create a seam. This seam is then further worked on to get the shape needed; shape and size are many welded pipes, including straight and helical/spiral welded lines.
Take a closer look at A53 carbon steel pipes.
ASTM A53 also covers carbon steel pipes used in many different industrial uses. Carbon steel is an alloy made mostly of carbon and other elements that improve its mechanical features. These pipes are inexpensive, practical, and easy to make.
Look at ASTM A53 Grade B
ASTM A53 Grade B is a regular grade listed in the ASTM A53 standard. It is one of the most widely used types because it has moderate tensile strength and can be welded well. Grade B pipes can be used for various mechanical and pressure uses.
Benefits of ASTM A53 Grade B ERW Pipes
ASTM A53 Grade B ERW pipes have the best parts of the ASTM A53 standard and the Electric Resistance Welding method. The ERW method ensures that the dimensions are accurate, the surface is smooth, and the mechanical properties are better. These pipes are often used in businesses where high-quality welding is needed, and cost-effectiveness is crucial.
ASTM A53 seamless pipes and tubes, A53 welded pipes, and A53 carbon steel pipes are all essential parts of the industrial landscape. They are used for a wide range of uses in different fields. The seamless pipes have the best strength and pressure protection, and the welded pipes are the most cost-effective option. A53 carbon steel pipes stand out because they can be used in many ways and are easy to make. Understanding the sizes and uses of these pipes is essential for picking the right product for a given need. ASTM A53 is still a go-to standard for piping solutions in many businesses. M-Pipe & Fitting Solution Inc provides certified pipes & tubes that meet international standards such as API, ASTM, and ISO 9001:2015.
| | |
| --- | --- |
| Specifications | ASTM A53 ASME SA53 |
| Dimensions | ASTM, ASME and API |
| Size | 1/2" NB to 36" NB |
| Thickness | 3-12mm |
| Schedules | SCH 40, SCH 80, SCH 160, SCH XS, SCH XXS, All Schedules |
| Type | Seamless / ERW / Welded / Fabricated |
| Form | Round, Hydraulic Etc |
| Length | Min 3 Meters, Max18 Meters, or according to customer's requirement |
| End | Plain End, Beveled End, Treaded |
Grade
Chemical Composition (%) Max.
C
Mn
P
S
Cu
Ni
Cr
Mo
V
A
0.25
0.95
0.05
0.045
0.4
0.4
0.4
0.15
0.08
B
0.3
1.2
0.05
0.045
0.4
0.4
0.4
0.15
0.08
The carbon content in ASTM A53 pipes and tubes is typically between 0.25% and 0.30%. Carbon provides strength and hardness to the steel. Phosphorus is kept at a low level in ASTM A53 pipes and tubes to maintain good weldability. The maximum phosphorus content is limited to 0.05%.