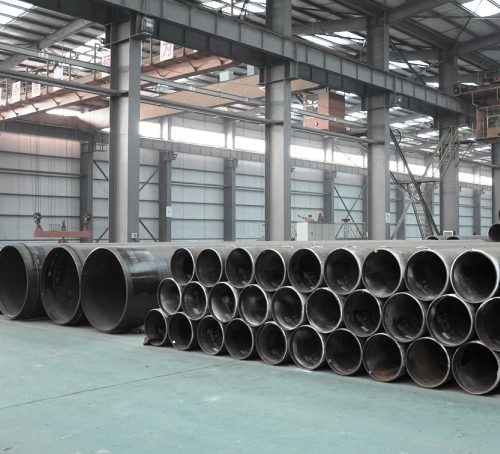 M-Pipe & Fitting Solution Inc is a reputable business that makes and sells Stainless Steel Seamless 310H Pipes of high quality. Stainless steel seamless 310H pipes are made of high-quality stainless steel grade 310H, which is a type of 310 stainless steel metal. A seamless method was used to make these pipes, which means there are no weld gaps. Austenitic stainless steel type 310H is known for being very strong and rust resistance at high temperatures. Compared to regular 310 stainless steel, it has a higher carbon level and more chromium and nickel than usual. Because it has more carbon, the alloy is better able to handle high temperatures and prevent oxidation and scaling.
Standards from the American Society for Testing and Materials (ASTM) and the American Society of Mechanical Engineers (ASME) are used to make seamless stainless steel 310H pipes. They may also follow foreign standards set by groups like the Japanese Industrial Standards (JIS) or the German Institute for Standardization (DIN). Before buying these pipes, it's important to ensure they have the right certifications and requirements, such as seamless stainless steel pipes that meet ASTM A312/A213 standards.
The corrosion resistance and strength at high temperatures of stainless steel 310H pipes and tubes that have been joined together are excellent. They are often used in industries like oil and gas, making chemicals, building, and making furniture. The UNS S31008 number tells you what type of stainless steel was used, and the ASTM A312 standard makes sure that quality and dependability are met.
Stainless steel 310h welded tubes: Tubes are made from Stainless Steel Seamless 310H Pipes, a type of stainless steel metal that is different from 310 stainless steel. To make these tubes, stainless steel strips or plates are joined at their ends to make a shape that looks like a tube. Welded tubes are often used in many different industries for uses that need to be strong, durable, and corrosion resistance.
Stainless Steel 310h Rectangular Pipes: Stainless steel 310H Rectangular Pipes are made of grade 310H stainless steel. People often use these pipes in industry, building, and architectural settings. The oblong shape of the pipes gives them strength and stability, which makes them good for uses that require them to hold more weight.
The American Society for Testing and Materials (ASTM) made the ASTM A312 standard for seamless, soldered, and highly cold-worked austenitic stainless steel pipes. The 310H grade of stainless steel pipes is part of this standard. ASTM A312 stainless steel pipes are often used in places with high temperatures and a lot of corrosion, like in the chemical processing, oil and gas, and power generation industries.
ASTM A312 stainless steel pipe: austenitic stainless steel pipes that are seamless, soldered, or highly cold-worked and meet the requirements of ASTM A312 are accepted by everyone as meeting the requirements of the standard. This standard is kept up to date by the American Society for Testing and Materials (ASTM). It covers a wide range of grades and specs for stainless steel pipes.
The ASTM A312 guideline says that stainless steel pipes must meet standards for their chemical composition, mechanical qualities, dimensions, tolerances, testing methods, and marking. It makes sure that the pipes meet strict quality standards and can be used in industries like oil and gas, chemical processing, food processing, and medicines, among others.
UNS S31008 stainless steel 310h pipes: UNS S31008 is the code for stainless steel type 310H in the Unified Numbering System (UNS). It is a change to the 310 stainless steel alloy that is made with a lot of carbon. It is very strong and resistant to rust at high temperatures. 310H stainless pipes are pipes made of stainless steel that are either joined or don't have any seams. When temperatures are high and the environment is corrosive, these lines are used.
310H Stainless Steel Has No Welds Pipes are made of stainless steel grade 310H and are made without any gaps where they were welded together. In the seamless process, a piece of stainless steel called a billet is heated and then pierced to make an empty tube. Seamless pipes are better than those that are joined together because they are strong, uniform, and don't have any weak places like welded pipes do.
Stainless Steel Seamless 310H Pipes is austenitic stainless steel material with a lot of chromium and nickel. It is a form of 310 stainless steel that can be used at higher temperatures and has more carbon to make it more resistant to rust and stronger at high temperatures. The "H" in 310H, which usually runs from 0.04% to 0.10%, shows that it has a lot of carbon. This type is very resistant to corrosion, oxidation, and scaling at high temperatures.
Applications: Stainless steel seamless 310H pipes are used in many places and for many different things, like:
High-temperature environments: 310H pipes are often used in parts of furnaces, heat exchanges, kilns, radiant tubes, and machinery that does thermal processing.
Petrochemical and chemical processing: These pipes can be used in petrochemical facilities, refineries, and chemical processing businesses because they don't rust and can handle high temperatures.
Power generation: 310H pipes are used in boiler tubes, superheaters, reheaters, and steam lines in power plants because they can handle high temperatures and high pressures.
They are used in oil and gas research and production equipment, such as wellhead parts, manifolds, and flowlines because they are resistant to corrosion in harsh environments.
Rectangular stainless steel 310H pipes are used in infrastructure, building projects, and artistic buildings because they are strong, last a long time, and look good. The ASTM A312, ASME SA312, ASTM A269, ASTM A213, and other industry standards and approvals are all met by stainless steel seamless 310H pipes. These standards make sure that the pipes work well, are of good quality, and are the right size. When thinking about using stainless steel pipes for a specific purpose, it's important to keep in mind things like pressure ratings, temperature limits, chemical compatibility, and size requirements. Talking to experts in the field or the people who make stainless steel pipes can give you more specific help that fits your needs.
Because it has a lot of chromium, nickel, and carbon, as well as a high percentage of chromium and nickel, Stainless Steel Seamless 310H Pipes are very strong at high temperatures and don't rust or scale. Because of this, it works well for parts of furnaces, heat exchangers, kilns, and machines used for thermal processing. Pipes and tubes from M-Pipe & Fitting Solution Inc. are certified to meet foreign standards like API, ASTM, and ISO 9001:2015.
| | | |
| --- | --- | --- |
| Specifications | : | ASTM A/ASME SA213/A249/A269/A312/A358 CL. I to V |
| Dimensions | : | ASTM, ASME and API |
| Size | : | 1/8″NB TO 30″NB IN |
| ERW 310H Pipes & Tubes | : | 1/2″ NB – 24″ NB |
| EFW 310H Pipes & Tubes | : | 6″ NB – 100″ NB |
| 310H Pipes & Tubes | : | 1/2″ NB – 16″ NB |
| Schedule | : | SCH20, SCH30, SCH40, STD, SCH80, XS, SCH60, SCH80, SCH120, SCH140, SCH160, XXS |
| Type | : | Seamless / ERW / Welded / Fabricated / LSAW Pipes |
| Specialized in | : | Large Diameter Size |
| Length | : | Single Random, Double Random & Cut Length. |
| Form | : | Round, Square, Rectangular, Hydraulic Etc |
| End | : | Plain End, Beveled End, Treaded |
Grade
C
Mn
Si
P
S
Cr
Mo
Ni
N
310H
min.
0.04
–
–
–
–
24.0
–
19.0
–
max.
0.10
2.0
1.0
0.045
0.030
26.0
21.0
–
Stainless steel 310H pipes may contain small amounts of other elements such as nitrogen (N), copper (Cu), and molybdenum (Mo). These elements are added to enhance specific properties or improve the steel's performance under certain conditions.